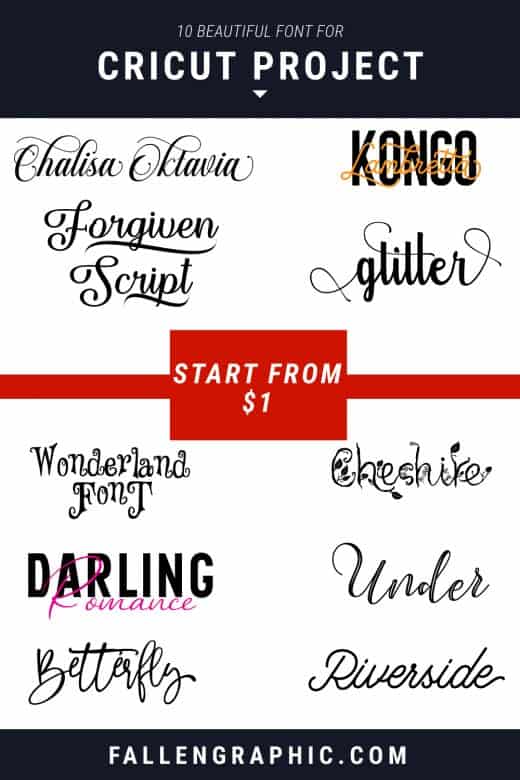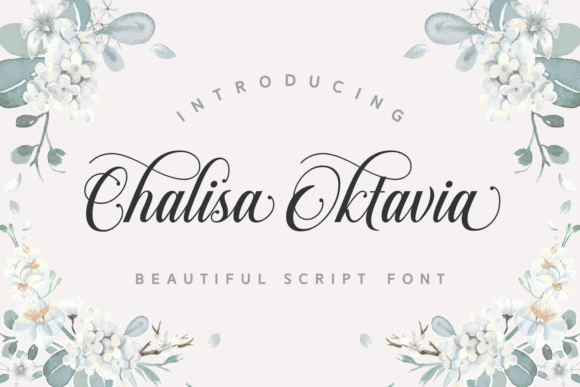 The Chalisa Oktavia is an amazing script font. It has beautiful swooshes and swashes which give it an elegant feel, while still keeping a great readability. It's the perfect font to add a feminine and elegant touch to your designs.
Author : Dani (7NTypes)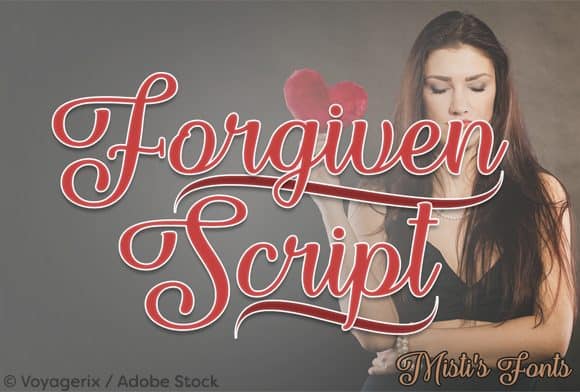 The Forgiven is an elegant calligraphy typeface that is perfect for wedding invites, logos, menus, book covers, and so much more!
It includes beautiful underline swashes which you can use to make the perfect design!
Author : Misti
3. Lambretta Kongo Duo Font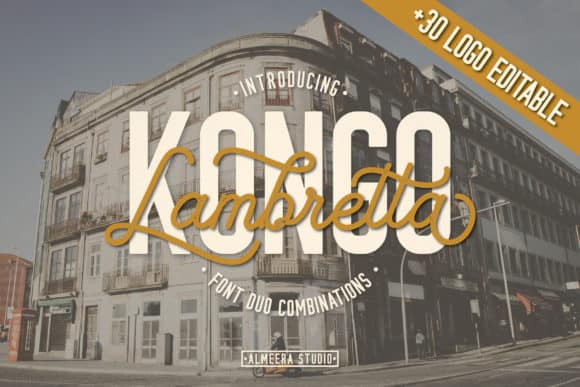 The Lambretta Kongo is a beautiful font duo. The two includes fonts come in two styles; script and sans, and are equipped with regular en stamped versions. They can be combined together, but are also perfect on their own.
Included as a bonus is a beautiful illustration logo that you can easily edit using your design software!
Author : Almeera Studio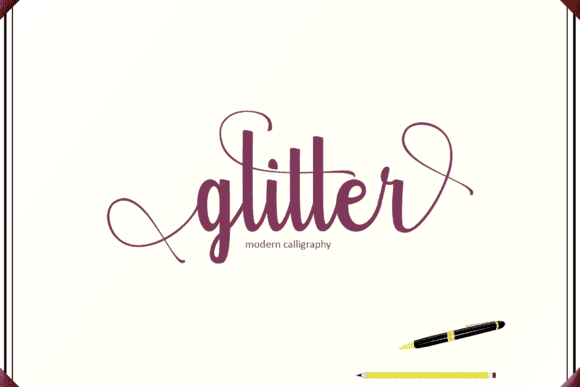 Typography plays a big role in managing moods in your design, so you don't have to skimp on choosing quality typography when you have the opportunity.
This Glitter is a beautiful script font with endless charm, and will add a romantic feel to your designs.
This bold, yet elegant vintage script is great for things like logos, wedding invitations, signage and posters.
Author : Rt Creative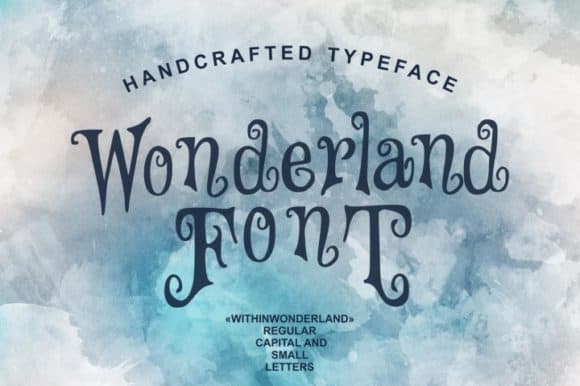 The Wonderland is an elegant typeface. Its beautiful swashes will give your design an playful feel, while the irregular character positioning make it look strange and full of fantasy.
It's ideal for children books, cards, invitations decoration, and every other design which needs an fairytale feel.
Author : bywahtung
6. Darling Romance Duo Font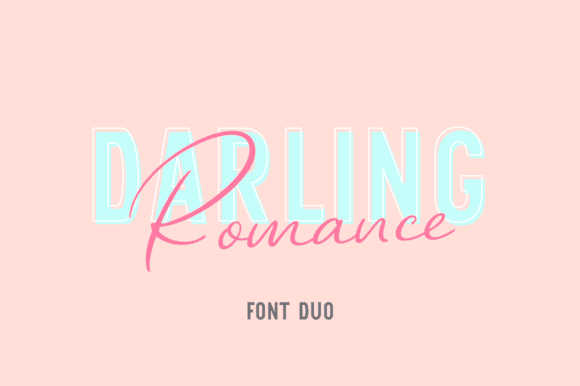 The Darling Romance is an elegant font duo. It includes various versions which gives you the opportunity to create multiple unique designs with just this one duo!
Its striking and elegant style make it perfect for logos, headers, magazines, posters, quotes, and much more!
Author : Pasha Larin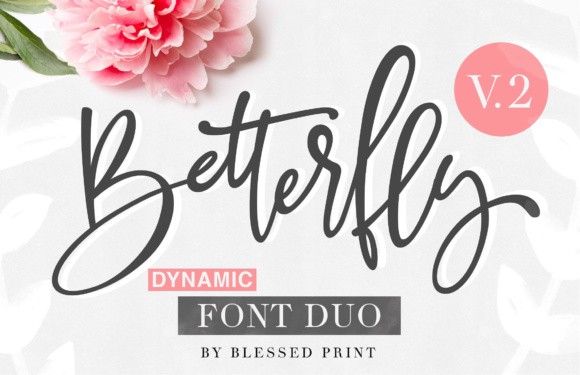 The BetterFly is a dynamic, modern calligraphy font. It has a playful and feminine look, which is great for wedding invitations and anniversaries, blogs and logos.
The Betterfly has plenty of integrated and individual swashes that help bring your design to the next level.
Author : Blessed Print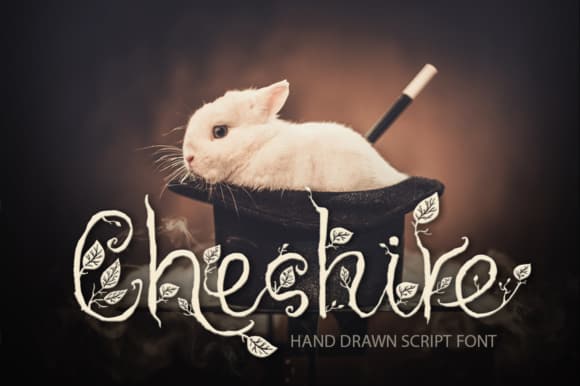 Cheshire is a beautiful script font with a hand drawn texture, lots of ligatures and 3 alternate sets for the whole alphabet. It was created for beautiful typographic projects, greeting cards, t-shirts, posters, mugs, branding materials, photography overlays and so much more!
It's very easy to get alternative glyphs:
Just type the number after any letter (1…3 for lowercase and 1…3 for uppercase) So, you can forget about the Glyphs panel, have fun and create great designs!
Author : Red Ink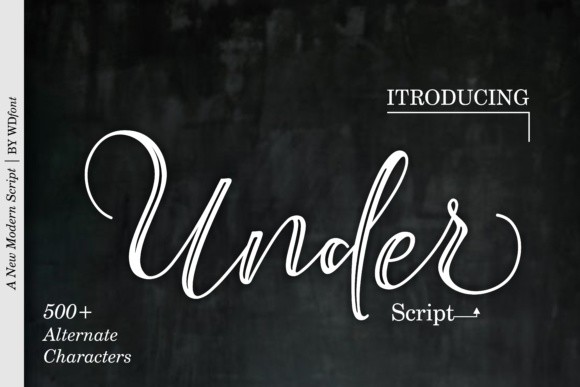 The Under Script is a script font with a smooth handwritten style. It comes with lots of alternate characters. It's perfect for branding projects, homeware designs, product packaging, name cards, invitation cards, etc. Simply as a stylish text overlay to any background image or anything requiring a sprinkle of elegance.
Author : wdfont.creative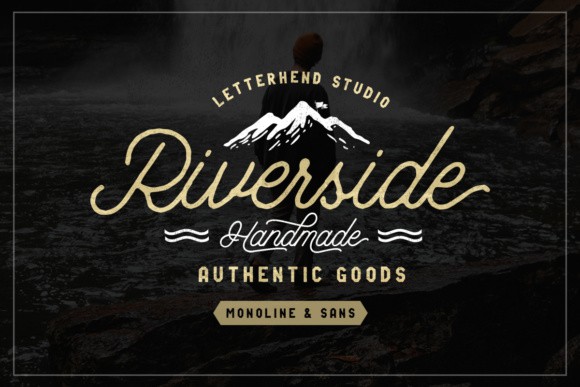 A handmade typeface with monoline and sans. This font is perfect to be used for multiple purposes such as; t-shirt designs, signatures, headlines and much more!
Author : letterhend
How to install fonts in Windows
To install the font follow these simple steps:
Unpack the zip folder that you downloaded.
Go to the folder with the fonts and search for the .OTF or .TTF file (we recommend you always install the OTF file if available).
Double-click on the font as if you are opening an application.
Now the font installation window will open.
Click Install and wait till it's done.
That's it! You have now installed a font.